We're all muddling through these unprecendented times and it's becoming more important than ever to look after your own mental health as well as the mental health of your workforce and colleagues. With this in mind, we've now expanded our range of Pre-Printed Lanyards to include Mental Health First Aider lanyards (MHFA) with triple safety breaks.
These pre-printed lanyards are available in a choice of lanyard styles and colours with "Mental Health First Aider" in stock for you to order today.
Our 1.5cm flat-ribbed MHFA lanyards are availble in NHS green, NHS blue, red and purple. Each is supplied in packs of 10 lanyards and come with a 3 black plastic safety breaks positioned centrally at the back of the neck and on each lapel and a metal trigger clip to attach your ID badge.

We have also released a 2cm flat SmoothSatin version in the 6 Stripe Pride rainbow flag colours with "Mental Health First Aider" displayed in white text. These also come complete with 3 safety breaks and a metal trigger clip to attach your ID.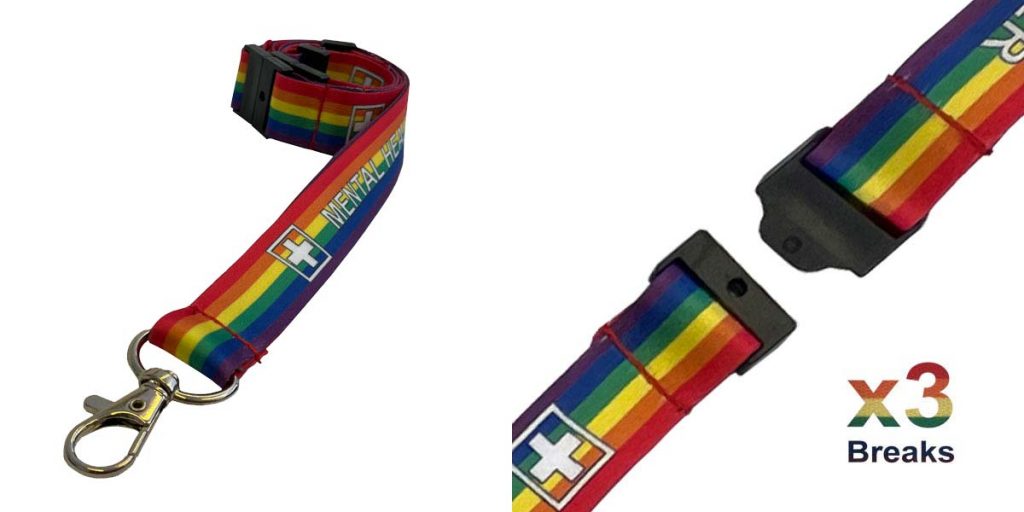 About Lanyards Shop UK
At LanyardsShop, we supply an absolutely huge range of stock lanyards in more than 20 different colours and styles including standard plain stock, pre-printed, premium design lanyards, accessories, ID Card Holders and more. Drop by, say 'hi' and see what we can do for you. Order online Monday to Friday for next working day delivery.